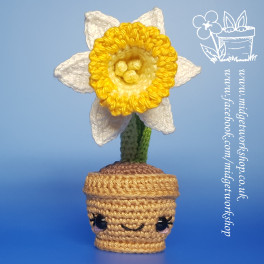 Maximize

Display all pictures
Nerys
Nerys is one happy little flower pot - her beautiful Narcissus is in full bloom, which means that Spring must be here at last! Nerys loves this time of year the best because she gets to see her flowery friend again in all her glory, and fill her in on all the wonderful things that she's missed while she's been away...
Nerys and her Narcissus have an approximate height of 115mm, and width of 65mm. I say approximate because Nerys started to get a bit tetchy with my tape measure, worrying over her flowers delicate petals - quite right, too!
As with all my makes, each little pot and flower will be crocheted just for you, by hand, by me. As such, despatch times are around the one to two week mark, but can be longer depending on my current workload or what's going on in the world. If you would like a Nerys of your own for a certain date, please drop me a message and I will do my best to accommodate your needs. Similarly, I'm more than happy to send a Nerys directly to a loved one with a personalised note, just let me know in a message.
The pattern that I used for the lovely Nerys and her beautiful narcissus was designed by the incredibly talented Olka Novytska of Aradiya Toys, and comes from her wonderful first book, Mini Kingdom. This pattern is used with her extremely kind permission. If you would like a copy of her book, you can find it here.