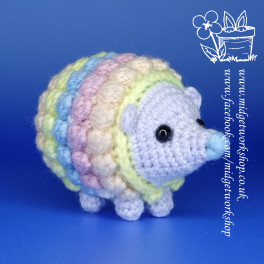 Maximize
Display all pictures
Pastel Rainbow Tiny Hooked Hedgies
These tiny crochet hedgehogs make a thoroughly cute companion to your desk or workspace, and are even the perfect size to go on little pocket adventures with you! Their crochet cluster spines are ideal for looking after your pins, and can even be used to keep hold of your stitch markers, ensuring they remain safe until you need them next. These little chaps have been crocheted using variegated pastel rainbow yarn, making each one especially unique! Getting precise measurements for these tickly cuties is always a challenge (they're very wriggly!!), but they are each approximately 70mm long and 50mm wide. On the whole they are fairly well behaved, but they do have a fascination with collecting pretty stationary and get into the occasional bit of mischief if left unattended for too long...
Because each Tiny Hedgy's colouring is so unique, whichever little one you choose today will be the one who trundles his way to you! So don't wait if you have a favourite because when they're gone, they're gone.
These cute critters have been designed by Marinda Jansen van Rensburg of Marinda Crochets, and the pattern is used with her kind permission. Should you wish to make your own hedgehog, the pattern can be found here. They are intended to be little collectibles for adults, and are therefore not suitable for children, and definitely not safe for anyone under the age of 3.