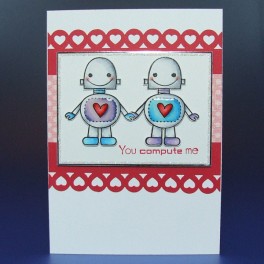 Maximize
Display all pictures
You Compute Me!
Card Size (Approx):

A6 (148mm x 105mm)

Postage Required:

Standard Letter
The Robots have arrived! Their mission? To broadcast your message of love this Valentine's Day (or on your anniversary, or next Tuesday)! Perfect for the inner nerd in us all!

Every "You Compute Me!" card comprises of two robots, each hand stamped with a Taylored Expression robot stamp, cut, coloured and finished with a Glossy Accent tummy screen. The heart border has been created using a Martha Stewart edger punch, and the topper has that extra bit of sparkle with a Stickles Star Dust edge.

The inside of the card reads: "Love You Bots!", making it a card that is suitable for any occasion, not just Valentine's Day. However, I am more than happy to add a Happy Valentine's Day message (or Happy Anniversary) upon request. The envelope has been finished with a single robot on the flap.