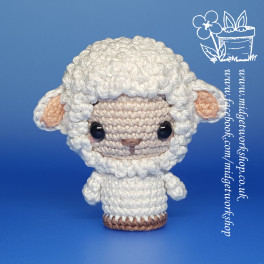 Maximize
Display all pictures
Baartholomew
Meet Baartholomew, a cute little lamb with a big pirate obsession! He chose his name in honour of his favourite pirate, Bartholomew Roberts, who was the inspiration for The Dread Pirate Roberts in The Princess Bride (Baartholomew's favourite film) and the inventor of the Pirate Code. Baartholomew is a happy, adventurous little chap who has definitely already perfected a lot of salty pirate language not strictly suitable for one so young... He's also desperately trying to perfect abseiling down a sail with a cutlass gripped between his teeth by practicing on our living room curtains with one of our old baby spoons as a cutlass substitute.
Baartholomew is approximately 75mm tall and 75mm wide. Please don't tell him that though - I've told him he's rather taller to help with his pirate image. As with all my makes, your little Baartholomew will be crocheted just for you, by hand, by me. As such, despatch times for him is around the one to two week mark, but can be longer depending on my current workload or what's going on in the world. If you would like a Baartholomew of your own for a certain date, please drop me a message and I will do my best to accommodate your needs. Similarly, I'm more than happy to send this adventurous chap directly to a loved one with a personalised note, just let me know in a message. He has been crocheted using 100% cotton yarn.
Baartholomew is a crocheted collectable, who is not a toy and is unsuitable for anyone under the age of 3 due to his small parts and rather grown up vocabulary.
The pattern I used for this adventurous chap was designed by the incredibly talented Olka Novytska of Aradiya Toys, and is used with her kind permission. Her wonderful patterns can be found here.